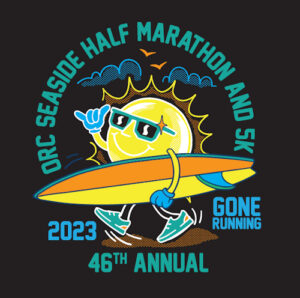 Seaside Half Marathon and 5K
Sunday October 22, 2023
What a great day for racing it was, weather was in our favor and all was set! Morning started with the Seaside 5K , flat and fast. Overall winners were: Irene Kalbian (yes you heard that right) 18:46 with first place male Dillon Clark 19:31- all overall winners and age group winners can be seen on raceforum.com.
5K finished the Half Marathon starts , volunteers ready, families and spectators ready- GO.
A little wind but great views of the ocean and the bay for the runners. Top 3 overall male runners were John Oliveria 1:14:46, Jason Gers 1:20:17 followed by Luciano DeOliveira 1:20:38, a great field. Top overall females were Alessia Bandelli 1:36:40, Dana Christensen 1:37:38 & 3rd. Lisa Kuliczkowski 1:41:03.
Their also was the Challenge- these " I love running" people did a fabulous job, again all results can be seen on raceforum.com by Split Second timing.
Just want to a minute to Thank all the runners who came out for the Seaside Half Marathon and 5K and all the super nice feedback we received from you. We also want to Thank all our sponsors for Seaside Half – please sponsor's page – they were great and we really appreciate all their support.
Finally we Thank Lori Ditzel and ALL the amazing volunteers, without them and sponsors this long-lasting race would not exist. THANK YOU, THANK YOU .
From registration, the roads guards, water stop. Lead bikes, pacers, snack crew, awards to the ever happy to see – finish line! Thank you again for all the long hours.
Ps. Do not forget your race photos by Angie Lombardi Photography